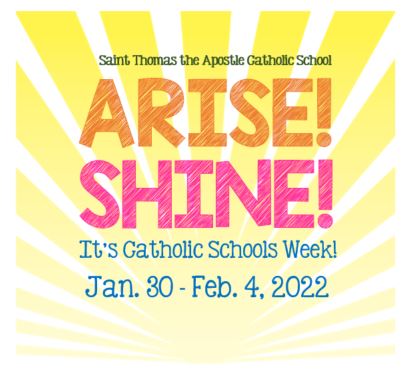 Yoobi Long, our Saint Thomas Flat Hornet will return for social media pics around town with our students and families.
Guy Smiley returns with Saint Thomas trivia on Wednesday at Chapel, so be sure to tune in at https://meet.google.com/rgb-ofxa-vhj
Preschool/Kindergarten Round UP! is scheduled for Wednesday, February 2 at 9am and 6pm. RSVP on our Round UP! Google Form
Our school families and parishioners are invited to a virtual lunch as Terry Tyrrell, president of Catholic Central discusses the importance of inclusion in our Catholic schools
We conclude the week with our Middle School awards and Red Glasses recipients end of day streamed at https://meet.google.com/rgb-ofxa-vhj
Join us January 30 through February 4, 2022 as we celebrate our Catholic School. The week is filled with opportunities for our students, families, parishioners and community to focus on the importance of a Saint Thomas Catholic education. Check out our Catholic Schools Week flyer.
Throughout the week, our students will participate in the following:
School-Wide Service/Art Project – There is no greater service than to serve others. We will be collecting art supplies to donate to Artists Creating Together, a nonprofit arts organization for individuals with disabilities, and participating in their collaborative art project called "Shine On." Our students will be creating mini drawings and paintings of suns, rays, stars and lights to contribute to ACT's larger project
Prayer Wall – Never underestimate the power of one small prayer – God hears the heart not the words
Send photos of you and Yoobi Long, our Saint Thomas Flat Hornet as you travel through your week