In addition to the traditional curriculum, we offer "Specials" that enrich and broaden learning and allow students to hone individual talents and interests.
Music: Through music, students' social and academic abilities are strengthened and transformed. Music gives students the basic tools to become successful lifelong learners. Our music instructor teaches grades K-8. The curriculum includes instrumental knowledge and practice, music reading, composing and writing, and performance skills.
Band: Mastering an instrument, working as a group and serving others through music – our students learn all of these experiences in band. At the end of 5th grade, we survey students and fit them for a musical instrument based on their interests and talents. Students participate in band during school hours.
Technology: While we use computers and technology in all of our classrooms, our students also participate in a class dedicated to developing technology skills. Students learn basic skills, cyber safety, Microsoft Publishing, Excel and Word, StoryBook Weaver, among other programs. Our computer teacher helps our students create multi-media presentations to highlight what they're learning in the traditional classroom.
At Saint Thomas, you'll see purposefully selected devices throughout our school…SMART Boards and Clevertouch Interactive display boards in classrooms, laptop computers in our computer lab and Chromebooks for more flexible student use.
At Saint Thomas, we:
Link all technology and tools to a specific curriculum.
Invest wisely and prudently in technology.
Engage students in conversation about the responsibilities of using technology in a faith-filled life.
Ensure that 7th and 8th graders are ready for the technological realities of high school and the world around them.
Spanish: Learning a second language opens our students' minds to new cultures and traditions. Spanish begins in Kindergarten and continues through 8th grade, with frequency added in the middle school grades. Students learn basic vocabulary in the early grades and work toward writing and conversational skills in middle school. Additionally, students learn about Mexican culture and customs, rich in Catholic traditions.
Physical Education: We value the whole student – mind, body and spirit. Our physical education classes are designed to emphasize exercise as part of a healthy lifestyle. Students in grades K-8 exercise in our historical Saint Thomas gymnasium twice a week through the Grand Rapids Shared-Time Program. Students learn team sports as well as individual activities. Our preschoolers utilize a preschool playground providing them numerous opportunities for gross motor development.
Art: We believe that art enriches lives. Our students learn basic drawing and compositional skills while working in a wide variety of media. We emphasize material handling and problem solving as students work with paints, oil pastels, pencils, chalk pastels, mixed media, collage and clay.
Our middle school students learn advanced drawing techniques including perspective, human proportion, contour, modeling, and shading. They also research cultural and historical art forms and integrate them into their own work.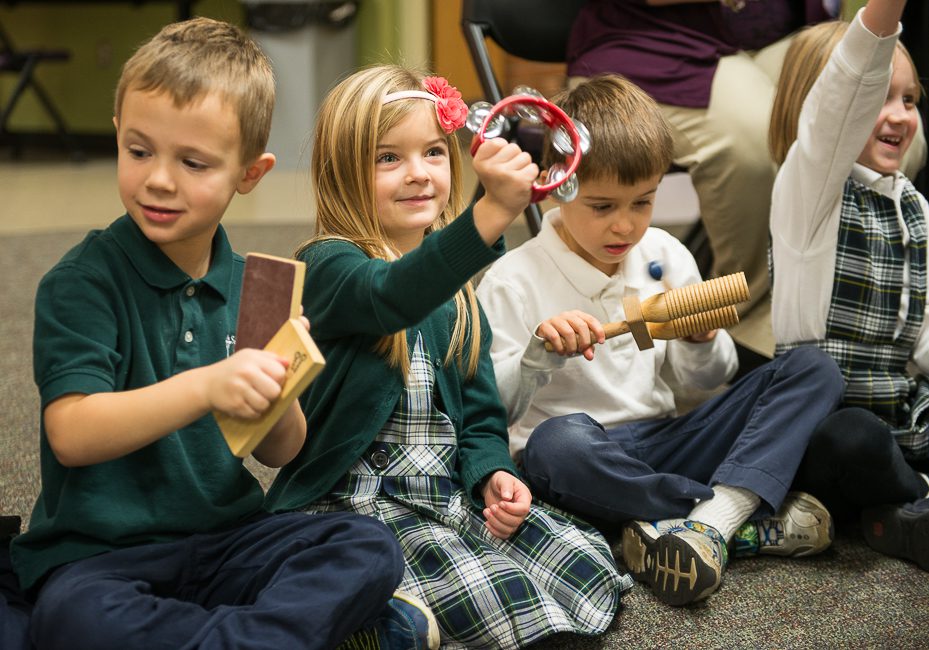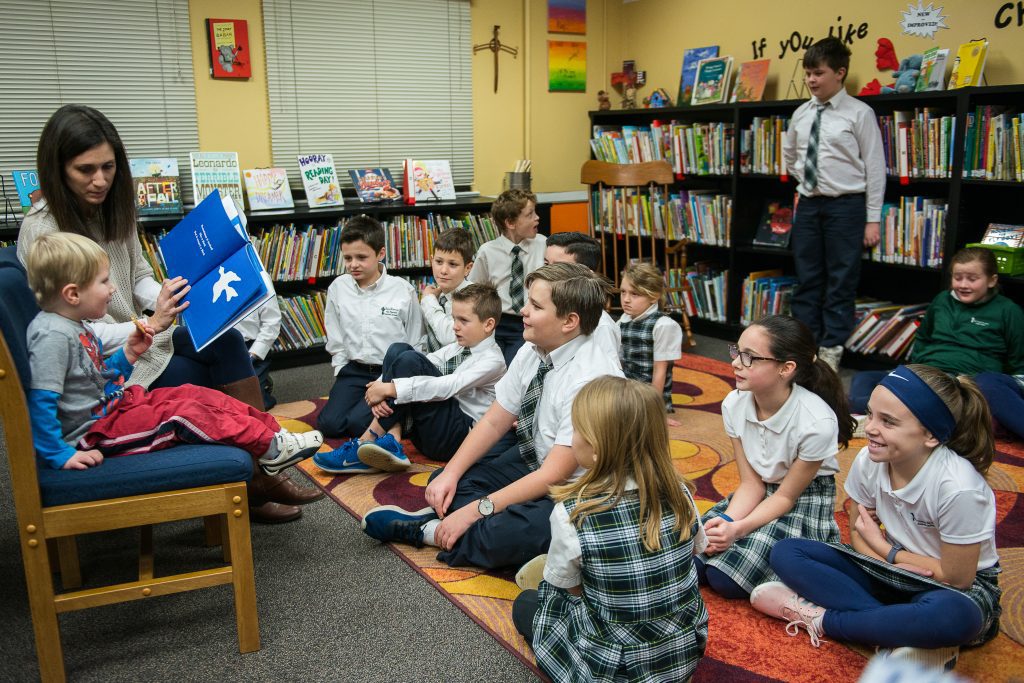 Library: Each class in preschool through 6th grade visits the Library once a week. Our librarian and parent volunteers help students find that special book that speaks to each individual child. Additionally, our Read to Me/Read to You Program nurtures a lifelong love for reading.