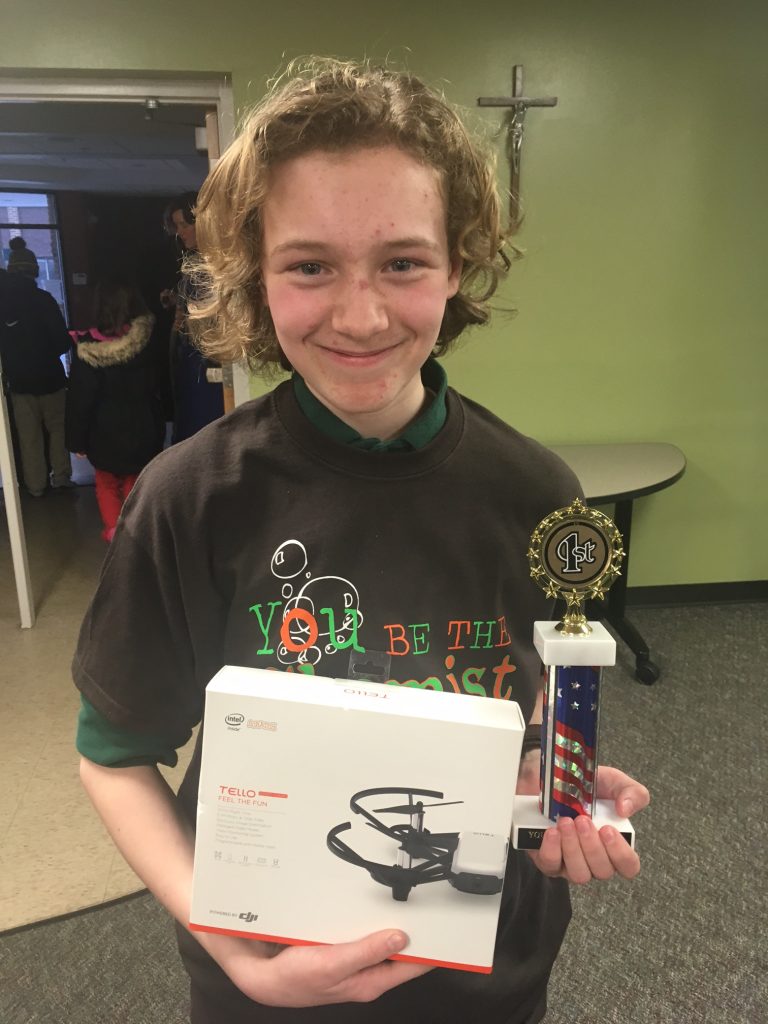 We challenge students with after school programs, including e-gaming (grades 5-8), our annual musical (grades 4-8), our annual variety show (grades 3-8), Girls on the Run (grades 3-5), and GRACEAC sports (grades 5-8). Middle school students can participate in Science Olympiad. We are proud that our students medaled in only their second year of competition!
Our students also have the opportunity to participate in our annual Spelling Bee (grades 3-8) and "You be the Chemist" Competition (5-8). Saint Thomas is proud to be the Regional Site for the "You be the Chemist" Competition. Representatives from Webb Chemical in Muskegon and PVS Chemicals in Detroit visit Saint Thomas and host this competition. Each year, we have students advance to the state level in these events!
Our Student Council offers our students (grades 6-8) an opportunity to serve the student body by providing fun activities, service opportunities and community outreach with local charity Kids' Food Basket.
In addition to our music classes, students may participate in one of three Saint Thomas Children's Choirs. Practice is held Tuesday nights in the church.
At Saint Thomas, we continually seek and offer experiences to enrich our students' growth.
After-School Programs
We are offering a program through Afterschool Enrichment Solutions. If you are interested in signing up your child for any of the classes listed below, go to www.learningmeansfun.com/signup and complete the online registration. If you have any questions, please contact Afterschool Enrichment Solutions at (847) 482-9999 or registration@learningmeansfun.com.
Chess Scholars
Kindergarten – Grade 8
Wednesdays, 10/11-12/20 (fall), 1/24-3/27 (winter), 4/10-6/5 (spring)
3:25-4:25pm
To sign up visit https://www.learningmeansfun.com/signup
Course Code: TGR10.11.23
Chess Scholars is our fun-filled professional chess program for children in grades K-8.We work with students of all levels, including complete beginners. During each one-hour class, there is an interactive instructional period of 15-20 minutes, followed by guided practice. Students can also test for Chess Belts, patterned after martial arts belts. We normally run a tournament with prizes towards the end of the session. Our curriculum is well suited for the needs of young students. For example, we have a special point system designed to avoid discouraging young beginners.
Guitar Stars
Grades 1-8
Mondays, 10/9-12/11 (fall), 1/22-3/25 (winter), 4/8-6/3 (spring)
3:25-4:25pm
To sign up visit https://www.learningmeansfun.com/signup
Course Code: TGR10.9.23
Learn the fundamentals of guitar while playing games, making music and having fun in this newly designed class! We'll cover the basics, from how to hold the guitar and pick to proper fret-hand finger positioning. More advanced or returning students will delve into sight reading, playing by ear and rocking out as a class!
GUITAR REQUIRED. A basic inexpensive guitar can be purchased through Amazon.com by searching for First Act FG127. IF YOU
NEED INFORMATION ON PURCHASING A GUITAR, CALL JOHN SUITS AT 773-286-2941.
Let's Code It
Grades 2-5
Tuesdays, 10/10-12/19 (fall), 1/16-3/26 (winter), 4/9-6/4 (spring)
3:25-4:25pm
To sign up visit https://www.learningmeansfun.com/signup
Course Code: TGR10.10.23
In this exciting new coding class from Afterschool Enrichment Solutions, take a deep dive into computer programming with the web-based platform Tynker!
• Learn the art of digital animation
• Create video games that run on physics, math and art concepts
• Design Minecraft blocks, skin and mobs
• Experiment with HTML, Python and Java
No previous coding experience is required to learn and have fun in the Tynker playground under the instruction of a coding coach!