First Communion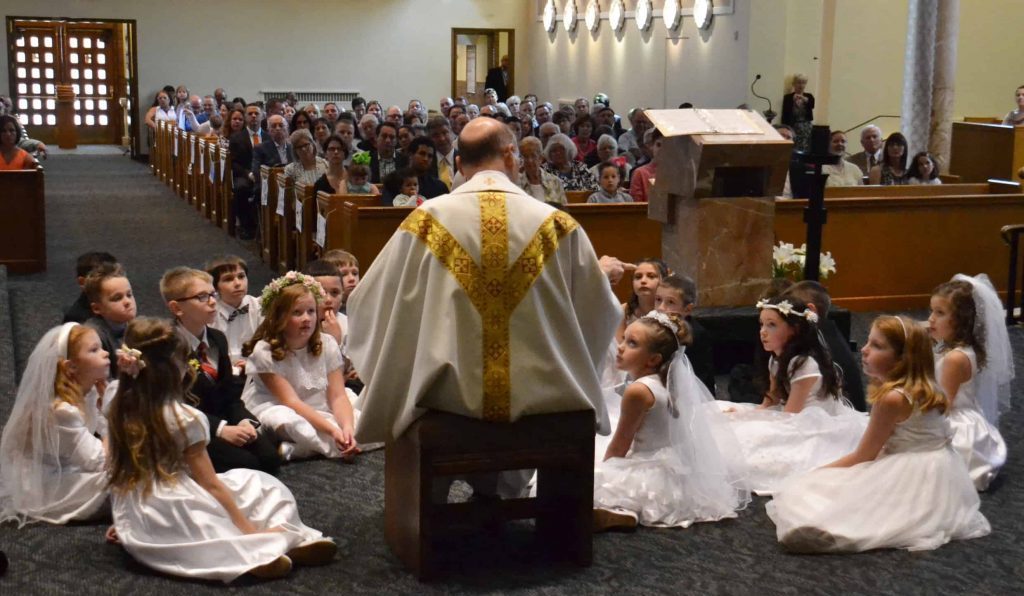 Saint Thomas students begin preparing for First Communion in 2nd grade. On their First Communion day, our children gather around Father Jim on the altar. They witness the Mass as a true participant, side by side with their priest.
Joining their parents to receive our Lord's sacrifice for the first time, our children begin to grasp the meaning of this special day in their Christian lives.
Sacrament of Reconciliation
All Saint Thomas students gather to celebrate the Sacrament of Reconciliation (Penance) twice yearly – during Advent and Lent. This practice introduces our students to a life-long process of self-reflection and reconciliation in an age-appropriate manner.
In the earlier years, Father Jim reads to the children from the Word of God and then leads them through an age-appropriate examination of conscience. Individually, they approach for confession of sin and absolution. In 4th grade, students receive continued catechis of reconciliation and learn "the art of examining oneself." This Reconciliation Celebration is celebrated as 4th graders complete this process entirely on their own, in an adult manner. Students continue to receive the sacrament in this form through the 8th grade.
Sacrament of Confirmation
Throughout their student experience at Saint Thomas, leadership, honor and integrity are woven throughout classroom expectations, programming and student life. One of the culminating experiences for our 8th grade Catholic students is Confirmation.
Candidates and sponsors meet for catechesis, contemplation and partnership. As true witnesses of Christ, the confirmed are empowered to spread and defend the faith by word and deed. Saint Thomas prepares these young adults to be warriors for Christ, evangelizers of our faith, and moral leaders in our community.