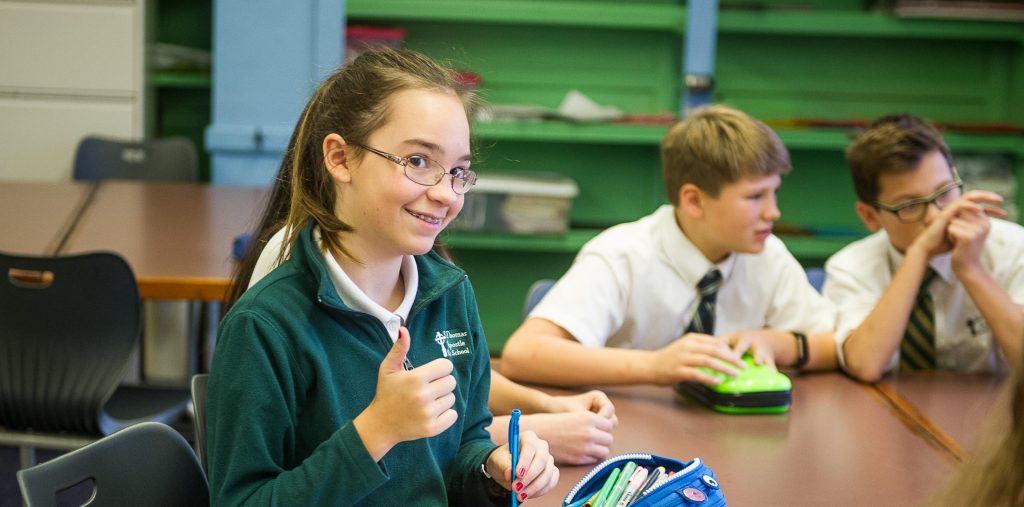 We support our middle schoolers in finding their voice and learning how to use it! Our middle school students are immersed in a stimulating environment where they learn to express their feelings, needs, thoughts, and ideas honestly, responsibly, and respectfully. We work to nurture compassion and leadership. This transformation of students to leaders is purposeful and powerful.
Our differentiated curriculum encompasses several learning styles to foster critical thinking skills. We use cross-curricular teaching methods to facilitate learning and academic success. Our middle schoolers are encouraged to take risks and investigate alternative approaches. As they develop the capacity to think abstractly, our teachers focus on persevering in problem-solving, while strengthening computation in mathematics. Building on prior knowledge, students tackle new concepts. Their growing confidence allows them to actively engage in challenges, accept responsibility for their actions and learn to believe that they can and will be successful in future endeavors.
A Saint Thomas education is a 100 year tradition of excellence in faith formation and rigorous academics producing students who excel in high school and beyond.
Middle School Newsletter
Dec. 1 Middle School Newsletter
November 2023 MS Newsletters
October 2023 MS Newsletter
September 2023 MS newsletter
August 2023 MS Newsletter