Our Mission
---
Dynamic Catholic Education
Centered in Christ
Our Vision
---
A leading innovative Catholic school that invites students to love and serve Christ and engage culture with a saintly passion.
Our promises to you
Fearless Faith: We place Christ at the center of all we do.
Rigorous Academics: We challenge our students known for their academic excellence.
Peaceful Climate: We provide a supportive and respectful environment, inclusive and accessible to all.
Empowered Community: We partner with our parents to ensure a dynamic Christ-centered education.
Intentional Technology: We empower students to become responsible citizens in our digital world.
Servant Leadership: We develop conscientious and honorable future community leaders.
History
In 1925, 75 families gathered to break ground on what would become Saint Thomas the Apostle Catholic School. They placed their faith in God and their children in the hands of compassionate faculty and staff who believed in the power of a Catholic faith and education. Today, almost 340 students from about 200 families are evidence that the prayers of these 75 families were answered. close to 100 years later, Saint Thomas the Apostle Catholic School is still providing a dynamic education centered in Christ.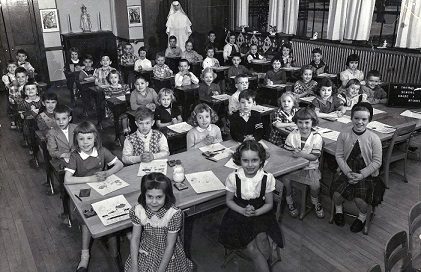 We are Saint Thomas. Walk through the halls and you will sense that "something special" we are known for. You will see it in the hands of our kindergartners folded neatly in prayer and in our 8th graders' eyes that light up at the opportunity to serve. You will hear it in the athletes' voices as they begin every sporting event, gathered hand and hand in prayer. You will feel it watching 340+ children quietly file into Chapel to begin each school day in prayer.
We've grown a lot since 1925. But the essence of who we are has remained faithful and strong. A Saint Thomas Catholic education was, is, and will continue to be a Dynamic Education Centered in Christ.